As a City Lit student, you can enjoy a variety of discounts with a number of retailers.
City Lit does not issue student ID cards - you can join the library to get a library card, but this isn't photo ID and won't always get you discounts.
Unfortunately, City Lit students do not qualify for a discount on TfL, but we have a few partnerships set up that mean you can enjoy discounts in subject specific shops as listed below.
By studying at City Lit you can get a 10% discount on any parking space booked via YourParkingSpace.co.uk across the UK. Just use the code CITYLIT10 to get the discount.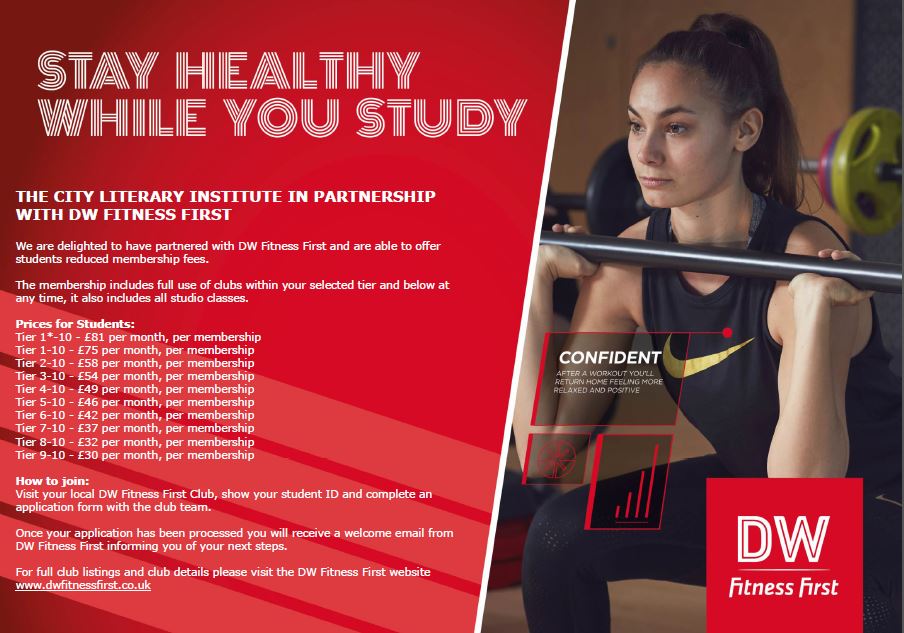 We have just partnered with DW Fitness first to offer you a special discount on gym membership!
If you sign up in November you'll get the rest of the month for free and a free PT session. You'll only have to pay a £30 joining fee plus £40 per calendar month for your membership.
To take advantage of the offer pop into the High Holborn club: 246 High Holborn, London, WC1 V7EX
Alternatively you can pop into your local club or email timdurance@fitnessfirst.co.uk for more information.
You'll need to show your enrolment receipt to claim the discount, this would have been emailed to you or you can ask at Reception or the booking counter for a copy and our staff will be happy to help.
Student TOTUM Cards (by NUS)

​​​​​​​

TOTUM is the #1 student discount card and app giving you access to exclusive student deals on food and fashion, tech and travel and everything in between.

To sign up for a card, please go to https://citylitacuk.sharepoint.com/sites/TOTUM

Please note, you need to be signed into your City Lit Microsoft365 account before accessing this page. Please login to your Microsoft365 account with your student email address (ending @student.citylit.ac.uk)

If you are studying a language at City Lit you can get 10% off your course textbooks and other language books at the European Bookshop and the Italian Bookshop, 123 Gloucester Road, London, SW7 4TE. Order online for home delivery or Click & Collect.

For Italian t: 020-7240-1634 e: italian@esb.co.uk
All Other Languages t: 020-7734-5259 e: bookshop@esb.co.uk

If you are on a music course head to Chimes Music Stores to get your 10% discount. They have four branches: South Kensington, Barbican, Royal Academy of Music, and Ealing.
Money off art supplies at Cass Art
Want to stock up on art supplies? Cass Art offers students 15% off full priced items; you just need to sign up to their student card. They have 8 branches across the UK, the closest one to City Lit is on 13 Charring Cross Road, London, WC2H 0EP.
Pen Heaven offers all City Lit students an exclusive discount of 15% when shopping online, just use the discount code CITYLIT15. They sell a large selection of implements to complement student courses, from calligraphy sets to pencils, journals and fountain pens, plus much more.
Mandira in Covent Garden is a café centring its menu on dishes that are eaten with its hand-crafted live yoghurt. Mandira offers City Lit students 10% off their dishes, just mention that you're a City Lit student when you order.
Ripley and Lambert is a new independent specialist film bookshop and café on Kingsland Road in Dalston, East London. They are happy to accept presentation of a course receipt as proof of being a student, in lieu of a student card, to get a 10% discount. Plus, an extra 5% discount off a drink if you bring a reusable cup!
__________________________________________________________
Terms and conditions
Information was correct at time of print (September 2018). Discounts are subject to availability and are not guaranteed.
You may be asked to show your enrolment receipt for a current City Lit course to claim these discounts.
For a copy of your enrolment receipt contact us or speak to our receptionist or Customer Engagement Team on the ground floor.
Retailers have the right to remove their offer at any time or may have further terms and conditions - please check with individual retailers before making your purchase. City Lit are not responsible for any changes to the discounts.
If you have any feedback or if you would like to offer our students a discount, please contact us.
Still have a question?
Contact Us
Or call Reception on 020 3871 3111
Monday to Friday 09:30-19:30