This guidance will help you to log into your Google Classroom using your internet browser.
Once you are logged into your Student account in Office.com, follow these steps:
Click on the nine small dots in the top left of the screen to see a list of available apps in a white side panel.

Click on the blue text that says All apps then scroll down to the bottom of the list and click on the Google Classroom icon.

If you are unable to see the Google Classroom application through within the menu, at the bottom of the menu click on Explore all your apps.

You are now inside Google Classroom.
If you have used Google Classroom before, your active classes will be listed.

If you are new to the college or have not done a course with a Google Classroom before, you will see a blank page.

Click on the plus icon in the top right of the screen to join your class.
Info
You will only need to join the class once - on future visits your course will appear on the screen from step seven. The next time you log into your Student account, Google Classroom will be visible in the main Apps section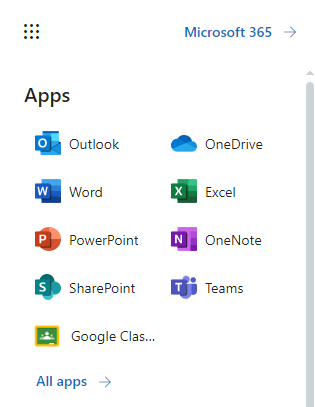 Need more help?
For more information or to get help accessing your student IT account, complete our online form.
Contact Us Form